Winter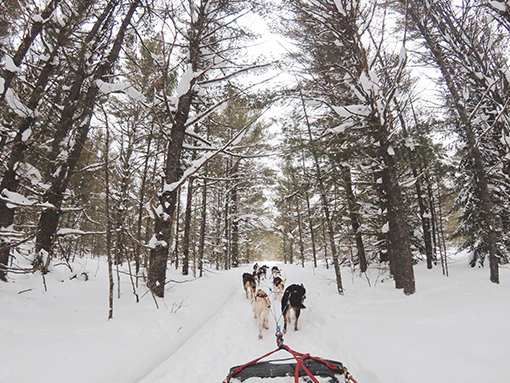 Dog Sledding
Become a "musher" of your very own dogsled team. Guide your team across lakes, over mountains and through forests, all while discovering the majestic beauty of the Laurentians wild areas. Spend a day amongst the nature with "man's best friend". Savour the sounds, scenes and aroma of the cool brisk winter. Afterwards, enjoy time relaxing at Beaux Rêves Nordic Spa!
Snowmobile
Discover the Laurentians, Québec the world's largest winter playground with nearly 5500 km of snowmobiling trails bringing you only where snowmobiles can, wind your way across lakes, over mountains and through the majestic mountains, on well-groomed scenic trails known for their beauty and quality. Stop in for a good hearty sugar shack meal in an authentic atmosphere right by the trail. If you get an early start and make good time you will be able to take a day trip to Duhamel to see the deer.
Upon your return sit in our infrared heated solarium overlooking the river and Nordic Spa. Then relax for an hour in our Dream Salon, experience our NEW Dream Circuit, the first and only one in Quebec! Take the plunge in our outdoor thermal ponds and then in one of our sauna's or the steam room to relax the muscles. Share this adventure as a romantic ride through the wild or with a group of friends for the thrill. Lodging at our Inn? You will have use of our unique outdoor Nordic Spa.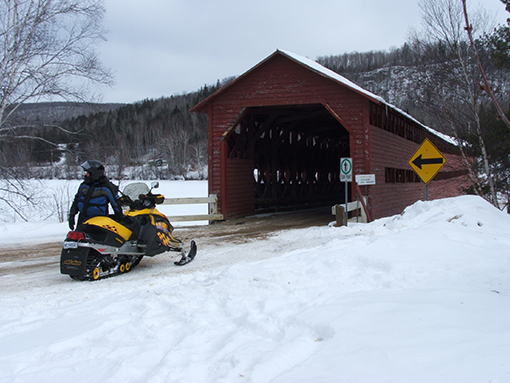 Alpine ski and Snowboarding
Auberge & Spa Nordique Beaux RevesThe Auberge is situated close to 12 popular alpine ski centers. Come discover our great mountains to ski and board! Après-ski at our Nordic Spa is a great way to end a day on the mountain. Have a drink in our riverside heated solarium and then slip into the warm thermal pond to relax those muscles under the stars.
Come ski with us!
Cross-country ski
Enjoying a day of cross country skiing in the Laurentians is a real winter dream. Amongst the landscapes, groomed trails and local hospitality you will find yourself within an unforgettable atmosphere.
The most popular linear park "le petit train du nord" crosses our region "Les pays d'en haut", travelling 232 km north from St. Jerome . There are now dozens of trails linking to this major axis regrouping many little towns where there are hundreds of trails to discover for all levels of skiers. You will really enjoy relaxing in our Nordic Spa after a great day on the trails.
Come ski with us!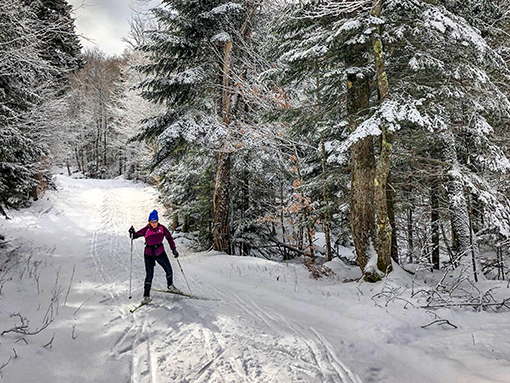 Snowshoeing
Discover our many lakes, mountains and forests in the Laurentians, Québec. We also have a few pairs of snowshoes on hand that we can lend you for a small fee so that you go explore nearby Doncaster Park with over 10km of trails. All overnight guests receive free access! End your afternoon sitting in our infrared heated solarium enjoying a hot chocolate or cold beverage with a snack from Beaux Rêves Bistro. Our Nordic Spa is a perfect place to relax!
Come snowshoeing with us!