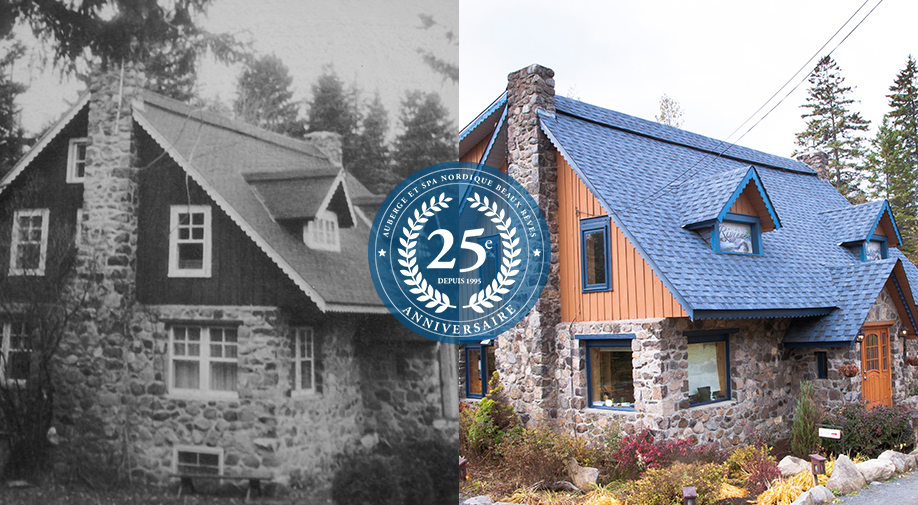 Auberge and Nordic Spa Beaux Rêves Celebrates its 25th Anniversary Year
On December 15, 2019, Auberge and Nordic Spa Beaux Reves in Saint-Adele, Laurentians Quebec achieved an incredible milestone – 25 years in operation!
Then and Now – How We've Evolved
We've truly evolved throughout the last twenty-five years. Our Nordic spa in the Laurentians has undergone several transformations, from bed and breakfast to inn, to a completely equipped property with a variety of accommodations, from standard rooms to suites, to chalets for rent.
Here is a brief overview of our evolution through time:
1995 – the original property was purchased by owner, Hannes Lamothe, and a major renovation was done and was launched as a four-room bed and breakfast.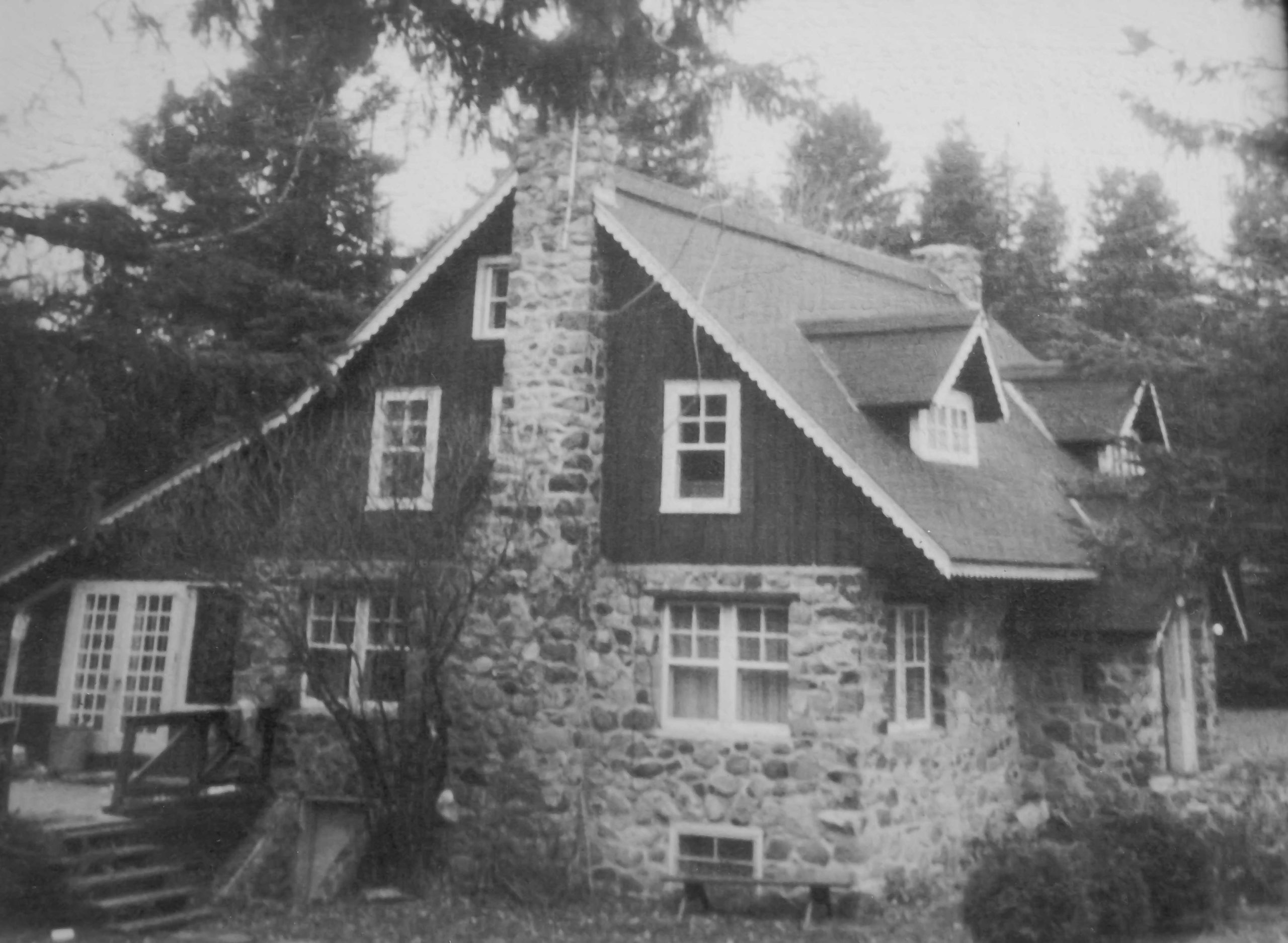 1998 – an extension was added to increase the number of rooms to seven with a superb top deck facing the river, allowing the property to officially become an inn. Relaxing massages were now available in one dedicated massage cabin, heated with an old wood stove, overlooking the river.
2002 – a second building was added to the property, adding six suites and a loft, all furnished with fireplaces and jacuzzis with stunning views of the river.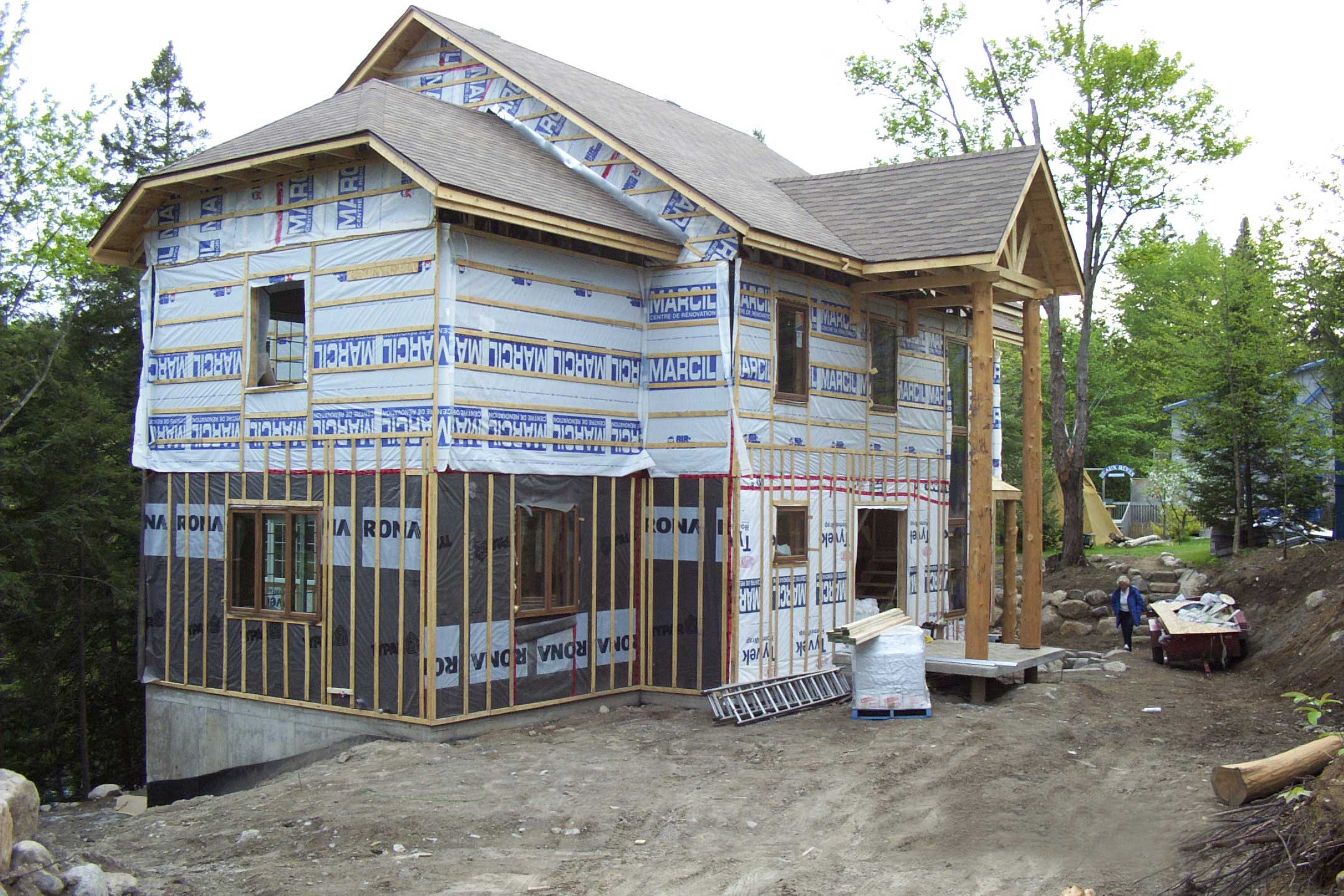 2009 – the three lower rooms in the main building were completely transformed into changing rooms, a relaxation room, and a steam room, so that the Auberge could begin offering day spa services. This was the beginning of the nordic spa with the first thermal pond.
2012 – many updates and renovations were done to the main building, as well as the dining room and the vestibule to the steam room. A second sauna, infra-red heated zone, and flagstone patio were all added to increase amenities for the nordic spa. A large thermal pond was built by the owner, transforming the nordic spa further into what it is today.
2015 – To add to the thermal experience, a nordic spa equipped with jacuzzi jets and a refreshingly therapeutic cold waterfall came to life. This pond is a stunning focal point of our exterior nordic spa amenities with breathtaking views of the river and nature path.
July 2019 – adjacent Riverview Property comprising three historical buildings was acquired. These unique and charming properties, the Cozy Cottage, the Riverside Retreat and the Merri Monti Lodge along with access to an inground pool now allow us to accommodate groups. The Riverview Property is an ideal location for group and family getaways. Each building can be rented separately, perfectly suited for adventure groups, corporate retreats,family vacations, and reunions. In addition, the entire property can be rented for special events like weddings. This property is also located right on the river's edge.
With continual improvements along the way, most recently with expanded massage cabins, aromatherapy room, and a cedar sauna with picture windows overlooking the river, Hannes has transformed his Beaux Reves dream into a beautiful reality that has to be experienced to be appreciated!
Sharing in Our Success
Many have contributed to the success of Auberge and Spa Beaux Rêves over the years. With the partnership of local restaurants, excursion partners, construction companies, our invaluable staff, business and marketing partners like WSI Montreal, the Saint-Adele Chamber of Commerce, and our faithful clients who return time after time, both our great success and evolution of our business would not have been possible.
Thank you to all those who have helped us along the way.  We can't wait to see what's next!
Message from the owner:
"I was 30 years old when I acquired this residential property (see old picture) and had no idea what I was getting into.  25 years later, I'm still here and just as passionate and inspired by the projects and guests.  I'm blessed to be surrounded by a dedicated team of staff who are truly happy when our guests are happy.  The majestic river that flows through our property has a spiritual effect on all of us.  I believe that this is what it's all about.
It's such an honour to see guests returning year after year.  For all those who have lived the "Beaux Reves Experience" I thank you and hope to see you again.  If you haven't yet experienced it, please come by and say hello." – Hannes
Come Visit Us Again or Discover Us for the First Time
If you have not been to see us recently, you should plan a visit to experience all our recent renovations and new Riverview properties. Experience our day spa packages, activity packages, accomodation packages,and chalets for rent.
If you have any questions or wish to make a reservation, do not hesitate to contact us, we will be happy to help you.