Canada Shriners Hospital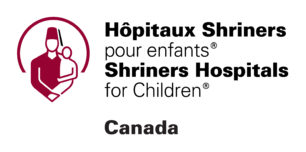 Fundraising campaign supported by
L'Auberge & Nordic Spa Beaux Rêves

Thank you for supporting Shriners Hospitals for Children – Canada
Located in Montreal, the Canada Shriners Hospital is a bilingual, short-term, acute care centre providing elective pediatric orthopaedic healthcare and rehabilitation to children from across Canada and around the world. For over 90 years, children have benefited from our ground-breaking research and innovative treatments. Above and beyond world-class care, these young patients have found a home away from home, a place where their disabilities do not define who they are, but are merely a stepping stone to becoming the most productive, active and autonomous adults possible.
Thank you for the confidence you have bestowed upon us by selecting Shriners Hospitals for Children – Canada as a charity of choice. With your ongoing support, we will be able to continue to provide exceptional care to our exceptional kids for generations to come.
How to Buy:
See below Spa package for 1 or 2 people and click the BUY NOW.
Complete the secure payment process.
Enter the correct promo code to receive our special offer:
⋅ Spa package for 1 – mhshriners
⋅ Spa package for 2 – mhshriners2
If you want more than one package complete the checkout and repurchase.
After completing your purchase, you will receive a confirmation email.
For reservations, call us with your order number and promo code, after buying this package. Reservations are required.
If this is a gift, download your certificate and read the instructions.
For one person use promo code: mhshriners
Your special price is $69.00
The regular price is $109.00
We receive $25.00 from each purchase
For two people use promo code: mhshriners2
Your special price of $69.00 each. ($138.00 total)
The regular price is $218.00
We receive $50.00 from each purchase