Auberge & Spa Beaux Rêves wins at the Grands Prix du Tourisme Québécois 2014
We are very proud to announce that on March 26th Auberge & Spa Beaux Rêves was the recipient of the GRAND PRIX DU TOURISME QUÉBÉCOIS 2014 in the 40 units or less lodging category, for the Laurentian region.
For 18 years now, Auberge & Spa Beaux Rêves has been run by the same owner, Hannes Lamothe. Year after year, Hannes has maintained the distinct charm to his spa auberge by enhancing its facilities, while preserving the site's natural scenic beauty. Notably, in 2013, a complete Nordic spa was added to the auberge.
Today, the auberge offers its visitors 11 rooms and riverfront suites, the majority of which are equipped with a fireplace and a double Jacuzzi. The auberge spa's luminous hall, for meetings or receptions, offers an undeniable advantage for groups and business travellers.
Auberge & Spa Beaux Rêves' amenities compare favourably to the other establishments in the region. However, the auberge remains a step ahead by harmoniously integrating its facilities with its picturesque surroundings. A large new thermal pool made of natural stone, a cascading waterfall and a traditional Finnish barrel sauna, are only a few examples of the uniqueness of this Nordic spa in the Laurentians. Notably, all of its facilities, such as the changing areas and relaxation areas, have been enhanced to ensure the most satisfying of experiences.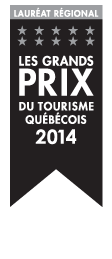 In terms of spa treatments, physical or aesthetic, the experienced professionals are continuously innovating to offer a variety of services, of the highest quality.
Finally, clients are always greeted in a charming and intimate atmosphere, which keeps them coming back!
This prestigious award comes after being awarded three consecutive certificates of excellence by Trip Advisor in 2011, 2012, 2013. This recognition confirms that the exceptional effort that Hannes and his team provide to the auberge day after day has not gone unrecognized!
We invite you to discover Auberge & Spa Beaux Rêves for yourselves!