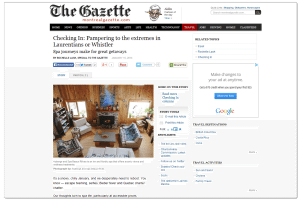 Beaux Rêves Featured in The Gazette!
A great big thanks to Rochelle Lash for featuring Auberge and Spa Beaux Rêves in her Montreal Gazette travel column, Checking In. We could not be any more excited to be featured in her column, which, every week, gives readers a glimpse inside a major hotel, inn, spa or resort.
In her column of Auberge and Spa Beaux Rêves, Rochelle highlights the evolution of our auberge and spa since its inception 18 years ago, and notes our ever expanding Nordic spa facilities, including the recent addition of our outdoor waterfall. Stating that "It's all about nature at Beaux Rêves", Rochelle details how our Laurentian location is ideal for relaxing and intimate spa experiences. Her column also points out how we have recently made our Nordic spa available to day-trippers and highlights our tailored spa packages, attractive to both singles and couples. Lastly, the column a features a brief interview with our owner, Hannes Lamothe, who discusses the influence his upbringing in Estonia had on the spa concept of Auberge and Spa Beaux Rêves.
Discover our Laurentian auberge and spa, and why, as Rochelle states, "spa journeys make for great getaways", in her column, here. Want to experience Auberge and Spa Beaux Rêves for yourself? Book a stay with us now!