After enjoying a relaxing getaway with us, we have asked 2 of the best restaurants in Ste-Adele to offer our guests a taste of their finest cuisine by creating 4 to 5 courses "table-d'hôte" dinners.
This concept has been very appreciated by our guests who truly rave about each dining experience!
Restaurants Info
La Chitarra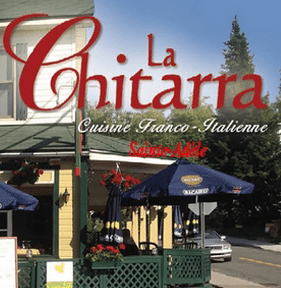 For 27 years the La Chitarra restaurant in Ste-Adele has been serving French-Italian fine cuisine to many happy customers. Located downtown in an ancestral building, the restaurant offers a nice mixture of great food and warm ambiance. Add to all this the attentive service by the La Chitarra staff. This establishment offers choices of veal, grilled meat, seafood and pasta.
Specialty: Pastadele is their line of fresh pasta distributed throughout Quebec. See our menu
Chez Milot
"Our cuisine is varied and responds to our clients taste and we are known for our generous portions. Whether sitting on our covered & heated terrace or beside the fireplace in the restaurant during fall & winter, we are at your service 7 nights weekly, daytime Monday to Friday. Our Sommelier will help you with the best wine choices for your meals and we always have fine bottles on reserve. Enjoy a wide variety of wines to suit your taste and budget.
Specialty: mussels, grilled meats and fish.See our menu
Beaux Reves Bistro & Terrace

The cozy Beaux Reves inn invites all guests to enjoy a hearty breakfast buffet. Our lunch time diners have the choice of many delicious and homemade meals that can be enjoyed in the Bistro or on the terrace (in season) offering an incredible view of the river and nature in the Laurentians.
Country Breakfast Buffet (served 8:30 until 10am daily)
Selection of fruit juices (orange, apple, cranberry)
Variety of cereals
Homemade muffins
Variety of Quebec "Artisan" breads from "La Chapdelaine"
Selection of jams, peanut butter and honey
Yogurt
Cheese platter
Fresh fruit platter
Beans, creton, turkey and ham
Hard boiled eggs
Oatmeal
Coffee, tea, tisane, hot chocolate
Beaux Reves Lunches
Served noon until 2:30pm
$12.95 plus taxes. Service not included.
Salads
Cesar Salad with chicken
Greek Salad with chicken
Beaux Reves Salad (ham, egg, cheese, tomato and cucumber)
Garden Salad with Smoked Salmon
Pizza served with Salad
Hawaiin Pizza (ham, pineapple)
Vegetarian Pizza (onions, black olives, mushrooms, jalapeno, cheese, peppers)
All Dressed Pizza (Pepperoni, mushrooms, cheese, onions, black olives, jalapeno, peppers)
Bagel served with Salad
Smoked salmon, cream cheese, onions, capers
Dishes served with Salad
Croque Monsieur (ham, cheese, tomato, dijonnaise)
Tuna Tortilla with Cesar Salad
Chicken Fajitas Wrap (cheese, peppers, salsa, sour cream)
Nachos
Chicken, black olives, jalapeno, cheese, salsa)
(Sour cream $1.00)
Dessert of the day $1.95
Tea, coffee, tisane included.
Variety of soft drinks and alcohol available.
Beer, wine, sangria, cocktails etc…